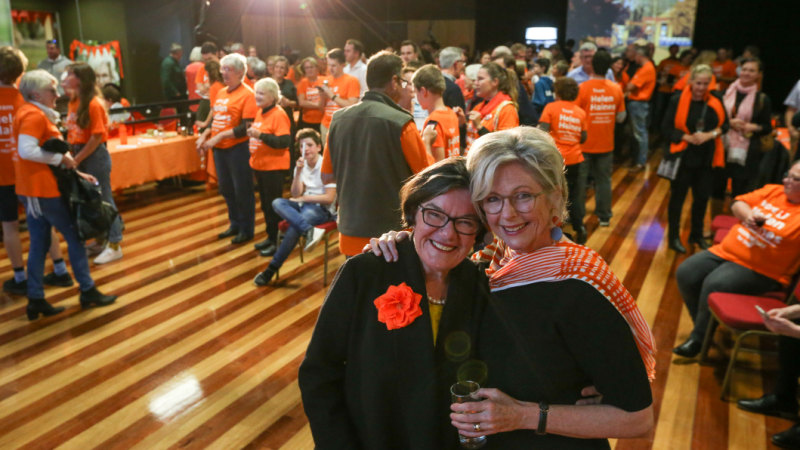 When Ms McGowan announced her retirement from politics at the beginning of the year, Liberal operatives believed the Victorian electorate could return to the Coalition which had previously held the seat since 1937.
Despite nominating the well-respected Steve Martin, and performing well in regional electorates across the country, the Liberals failed to halt Indi's orange-clad army of Haines supporters.
And what an army that was. Dr Haines had an extraordinary 1,700 volunteers — roughly one volunteer for every 20 first preferences she received, and 300 more than Zali Steggall had in her extremely high-profile defeat of Tony Abbott.
«Indi truly is an independent seat,» said Dr Haines, a nurse, midwife, health administrator and medical researcher who has lived in her electorate for 32 years. «We did what we did in 2013 and 2016 which was to mobilise our people out on the ground, and have lots of face-to-face conversations with people.»
Dr Haines' school fete campaign had everything: 2000 metres of orange bunting was made ahead of election day, supporters sewed and sold boomerang shopping bags, and instead of throwing out Ms McGowan's old corflutes, they were broken up and built into orange cockatoos for the campaign.
Loading
Her merchandise, including 1650 corflutes, 1050 t-shirts, 650 bumper stickers, and 410 cockatoo broaches, was everywhere.
There were even dog clothes made, worn by the so-called «hounds for Helen». It was a 'school fete on steroids'.
For Dr Haines, the campaign wasn't a step towards ultimately shaping her community, it was in itself a community event.
«It's the inclusion factor — there was a role for anyone. Others trying to get an independent up have a different approach, but we've really put effort in on the ground.»
Dr Haines will be joined by two other independents on the five-person crossbench: Ms Steggall and Tasmania's Andrew Wilkie.
Loading
She said she would have to prove to her constituents that independents can work effectively with a Coalition majority government.
«I'll put to them the agenda that Indi has elected me on and I'll do my very darnedest to influence them,» she said, nominating the climate-minded energy policy and the provision of health resources as her top priorities.
She said said the election was not a sign that Labor's climate change vision was dead.
«My gut feeling as a citizen is that I don't think it was the climate message that lost Labor the election,» she said. «Many people were fearful around aspects of Labor policy that were closer to their hip pocket. I suspect it was that.»
Ms Haines declined to be drawn on whether she would support Prime Minister Scott Morrison if his government's majority turned into a minority, as it did last term. However, she said stability was her priority.
«I want stable government, and will be working to assure we have that.»
Max is a journalist at The Sydney Morning Herald and The Age.