A replica of the America's Cup jacket worn by Mr Hawke is held by the Centre of Democracy in Adelaide.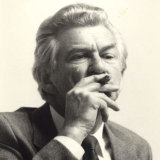 The Museum of Australian Democracy in Canberra holds an extensive collection of Hawke memorabilia, including election posters and leaflets, photos, personal letters, a 1975 portrait and Hawke's Telecom Commander telephone with direct dial buttons to his staff and ministers.
A pin cushion, lamp and garden gnome, all designed to resemble Mr Hawke, also feature in the museum's collection as well as a drinks dispenser in the shape of Mr Hawke's head with a sticker that reads: "Take the piss out of Bob".
Kate Armstrong, the museum's manager of interpretation and development, said visitors to a House Museum are often attracted to personal objects that have been regularly handled by the owner.
She suggested a well-loved childhood toy, lecture notes on political strategy or international relations from his university career, or a recording of Hawke delivering a rousing speech in his union days.
«A house museum often concentrates on someone as a person rather than as a political figure,» Ms Armstrong said. «Anything that relates to Hawke and his personal life would be worthy of consideration for the house museum collection and for display.»
Stewart Jackson, a lecturer in the Department of Government and International Relations at the University of Sydney, also favoured personal items such as school and university memorabilia, cans of Hawke Lager and «given his love of sport, a photo of Hawke being hit with a cricket ball and any sporting memorabilia he retained».
"I think it is a small price to pay for preserving a piece of Australian heritage, especially when taken in the context of the $50 million [Captain James] Cook memorial," said.
"Hawke is an important figure, whether loved or hated, alongside John Howard, because both had a key role in transforming Australia economically and socially."
John Tate, a senior lecturer in politics and international relations at the University of Newcastle, opted for humorous items such as video clips of Max Gillies impersonating Mr Hawke, his puppet from the 1980s satirical television series Rubbery Figures, and a "replica of his coiffure which defied gravity".
Loading
Dr Tate said a collection of Hawke artefacts should also include "one of his cigars that Paul Keating said stank out the Prime Minister's office when he arrived to replace Hawke".
NSW Labor's acting leader Penny Sharpe said she would include Mr Hawke's response to the Tiananmen Square massacre in 1989 and his 1988 speech following John Howard's comments on immigration.
Ms Sharpe also suggested Mr Hawke's 1983 promise, made when Opposition Leader, to stop the Franklin dam.
"I am sure that there will be many who will point to beer glasses, jackets and cigars," she said. "We need to have his Medicare card."
Andrew Taylor is a Senior Reporter for The Sydney Morning Herald.