The last Parliament's 11-member crossbench looks to have shrunk to six.
The Greens achieved a strong result and are likely to have retained all six Senate seats vacated at this election, despite facing tough contests in three of them.
Jacqui Lambie is poised for a Senate return and warned the Morrison government must treat her «a hell of a lot better» this time around.
Ms Lambie was elected to the Senate in 2016 but quit after being ensnared in the dual-citizenship saga.
Speaking on Saturday night, Ms Lambie told Prime Minister Scott Morrison that if she held the balance of power, «I hope to God you and your people treat me a hell of a lot better than what they did in the three and a half years I was up here».
«Otherwise … if I'm part of that balance of power, we're going to have a lot of difficulty getting things through … it's going to cost you a lot of money, which is great for Tasmania because I'll be able to deliver.
«You know what? Drop the attitude.»
In Queensland, One Nation's Malcolm Roberts looks to have edged out United Australia Party's Clive Palmer.
Mr Roberts, an avowed climate sceptic, was elected to the Senate in 2016 but was also forced out over citizenship issues.
Mr Palmer's apparent failed comeback comes despite an $80 million campaign advertising blitz.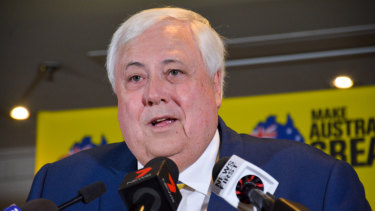 However Mr Palmer says his 4 per cent primary vote helped re-elect the government, and Labor agrees that preference deals between the Coalition and Mr Palmer's party contributed to its disastrous showing in Queensland.
Ultra-conservative Fraser Anning has lost his Senate spot – prompting North Sydney Liberal MP Trent Zimmerman to declare it «one of the great outcomes of this election».
«There have been a lot of people concerned about the rise in extremism here and around the world. And what we've tonight is Australians reject the type of extremism Fraser Anning was offering,» Mr Zimmerman reportedly said.
Loading
Justice Party senator Derryn Hinch is on track to lose his Victorian Senate spot, and Liberal Democrat Duncan Spender has also missed out.
In South Australia, Liberal Party defector Cory Bernardi appears to have been returned. The Centre Alliance – formerly the Nick Xenophon team – will occupy two Senate seats.
Observers say the government can probably rely on the Centre Alliance, Senator Bernardi and One Nation to pass its personal tax relief measures, and the absence of Senate wildcards such as senators Hinch, Spender and Anning will probably grant it an easier Senate ride.
Nicole Hasham is environment and energy correspondent for The Sydney Morning Herald and The Age.