"There's no doubt sporting organisations watch what each other do and of course they will look at this,» he said. "The NRL is now leading. For too long we have been followers. We need to grow the game and face all the challenges we face, we have to lead because it's incredibly competitive.
"No doubt other sports would be looking at the decision.
"This is about the welfare of rugby league and the growth of the game. It's about what fans want and they will walk away if you don't deliver a good product. We've got a good product, they want good behaviour off the field and our rule guarantees that."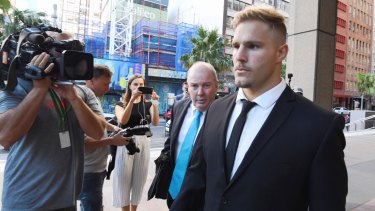 ARLC members unanimously backed the new hardline stance on player behaviour, although Beattie quickly became the face of the campaign. Had the Federal Court decision been in de Belin's favour, the former Queensland premier accepts he would likely have been the scapegoat.
"I'm not stupid, I knew my leadership was on the line," he said. "But I was representing a group of very smart commissioners and we were only acting in the best interests of rugby league.
"At the end of the day, if you're leading an initiative that matters, of course you put your head up. If it had gone the other way, there would be cries for my head.
"I did what I thought was right. I knew there would have been an enormous amount of pressure on me if it had gone the other way … I knew my position was on the line."
Beattie said it was time to work closely with the Dragons and the players' union to move forward after the ruling.
"It's a sober moment for the game," he said. "It's sober in the sense we need the new rule for its future, but also sober in the sense we need to work with all parties in the game. That means the clubs, they are essential, and the RLPA. We have goodwill, there's nothing arrogant about our position.
"[The rule] is an anchor for the game. We can build on that. You have to get the base right and we have a foundation to protect our game now.
"Part of that is being sensitive to the future. We've made it clear that if Jack de Belin is cleared by the court, he is welcomed back to the game."
RLPA chair Dr Deidre Anderson said the rights of athletes must be respected when significant changes in policy occur.
"It undermines the purpose and significance of the collective bargaining agreement, as well as the role of the RLPA, if the NRL are able to unilaterally change the NRL rules in a manner that will have a material impact on the players," Dr Anderson said.
Adrian Proszenko is the Chief Rugby League Reporter for the Sydney Morning Herald.