The MP, who Liberal sources said was now in line for a ministry, harnessed a taxpayer-funded campaign to fuel resentment about the policy around the country.
Mr Wilson said the policy was a game changer because it put voters' «bank balance on the ballot».
«A lot of those seats from the Central Coast [in NSW] to the Sunshine Coast [in Queensland] it was a big factor,» he said.
Labor's failure to hold seats in Queensland and Tasmania with large retiree populations cost Bill Shorten the election on Saturday after a predicted swing against the government in Victoria and NSW failed to materialise.
Anthony Albanese, who announced his candidacy for Labor leader on Sunday, said he would not make «policy on the run» and would «respect the caucus» before deciding whether to dump any policies.
Shadow treasurer Chris Bowen is also expected to announce his candidacy this week, along with Deputy Labor leader Tanya Plibersek.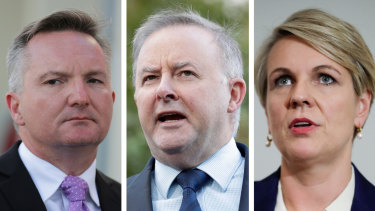 Mr Bowen said on Saturday night that «he had no doubt he would bring the [policies] to another election,» but that there would be a review of what went wrong. Ms Plibersek said Labor's big policy platform hurt the party.
«When you've got such a large agenda, it's sometimes hard to explain all of the details to all of the people who benefit,» she said on the Nine's election night panel.
Loading
Internally, Labor's polling showed it was being hammered in the over-65 age bracket, particularly in Queensland. «Two words: retiree tax,» said one Labor source.
The founder of Wilson Asset Management, Geoff Wilson — who co-ordinated the campaign with Tim Wilson — said Labor drastically underestimated the number of people affected by the change.
«It was just so grossly inequitable and unfair,» he said.
His company surveyed 4000 people who had signed its petition against the proposed changes and found that 47 per cent of respondents said their children or grandchildren would shift their vote away from Labor because of the policy.
Loading
«Labor was naive to think this only affected a small portion of the economy,» he said. «In terms of the community it impacted and the families it affected it was much larger.»
Mr Wilson urged businesses and business leaders to stand up more often when they saw a policy they felt was wrong.
«We lost a little bit of skin along the way, that's life, I would encourage more people to stand up,» he said.
One of Australia's largest investors, Tom Millner said Labor's policies had damaged investment confidence.
«This election result is bloody fantastic, no more concerns with Labor stealing investors' franking credits,» Mr Millner said.
with Cole Latimer
Eryk Bagshaw is an economics correspondent for The Sydney Morning Herald and The Age.
Mathew Dunckley is business editor for The Sydney Morning Herald and The Age. Based in our Melbourne newsroom, Mathew has almost 20 years experience as a journalist and editor.