"Our body doesn't like to have its blood outside it for any reason, so using a heart-lung machine, which bypasses the heart during surgery, can result in very strong inflammation in the body.
"What we wanted to see was whether adding nitric oxide to the heart-lung machine during surgery improves recovery after surgery."
The benefits of the gas are already known, and pilot studies had been conducted in the US and Melbourne showing the gas had anti-inflammatory properties.
Now the QCH, in conjunction with six other hospitals across Australia and New Zealand, is halfway through the largest trial on the matter, with more than 600 participants in the first two years.
One-year-old Flynn Kirkwood was one of the children involved the study with the consent of his parents Chloe and Barry.
The test is blind, meaning Flynn's parents do not know whether the gas was incorporated in his treatment, but he had a speedy recovery.
"We were in hospital for a total of six days, which is pretty amazing considering the severity of the operation," Chloe said.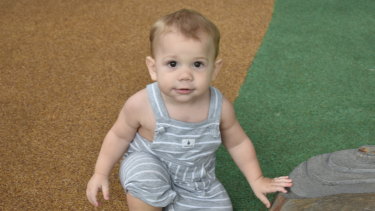 "He only spent two days in the paediatric ICU and then he went up to the wards."
She said she hoped the trial would eventually help other families through a very difficult time in their lives.
In 2018, Queensland Children's Hospital surgeons performed more than 250 heart surgeries on children using a heart-lung machine, with the youngest patient just seven days old.
Dr Schlapbach said, ultimately, they wanted to have more than 1000 children participate in the trial, which had so far had good take-up from parents.
"Sometimes parents can't give consent because it's a new diagnosis, they feel overwhelmed," he said.
"But we're extremely thankful for the support we've had from parents overall.
"We want to make sure that this can change practice across all hospitals very quickly, not just at our hospital but around the world."
Stuart Layt covers health, science and technology for the Brisbane Times. He was formerly the Queensland political reporter for AAP.