A big bowl of plump mussels, its winey broth infused with fresh bay leaves, generous on sweet slips of garlic, gets a tick. Cheese and salumi boards are as unimpeachable as you'd hope for something that essentially requires quality smallgoods (they are) to be nicely arranged on a board. Truffled cabbage dip is not, at all, better than it sounds unless you enjoy the aroma of cold soup, but a tahini-based beetroot whip-up does an interesting nutty dance.
The wine list, when you consider that you are located in a glammed-up food hall within Camberwell Place, is impressive. You can get a Jamsheed roussanne, a Gembrook blanc de blanc or a $510 Clos Du Marquis Bordeaux all while waiting for your prescription to be filled at the chemist next door.
Dining precincts in retail outlets, like it or not, may be the future. And while their new restaurant smell and box-ticking vibe mightn't seem a sexy proposition, good things can spring from sterile grounds. Look at Collingwood's Congress Wine Bar, built into the base of an apartment block. Three-hatted Sepia is going to be reborn bigger than ever inside the 80 Collins development. But I'd argue that restaurateurs need to double down to overcome that stark commercial energy and St Giles is coming to the party without the actual party.
There are glistening tiles and hanging greenery. Black velvet wrapping some thin banquettes. The glowing entrance cabinets, holding bottles of Austrian and Aussie wines to-go, pastel tins of Pepus cured fish and big haunches of prosciutto, and packs of 'nduja (all for sale), are pretty to look at.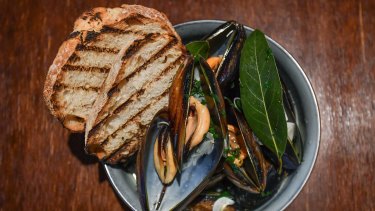 But there is also a glaring big-screen TV and hard bucket stools in the greenery-festooned nook. It's part wine bar, part RSL.
On the one hand, I want to shake the hand of the legend ordering Ruinart champagne, watching the game at a thin table while the one waiter in the restaurant spends most of their time doing admin on a laptop (as they were on our visit). On the other hand, who drew this Venn diagram?
It's a shame because McQuarrie's dishes have moments of real interest. The produce is fresh. A meaty medley of king brown, pink oyster and other mushrooms that sound like Australia's deadliest wildlife, are plump like post-injection lips with lemony butter, fennel fronds and sharp dabs of goat's curd, which gives a second swipe of rich zing.
Grilled zucchini batons rumble with melting crumbled feta and fresh chill, all heat and char and tang. The tomatoes with crunchy cucamelons dressed in a green goddess sauce and a dehydrated olive dust is weirdly sugary (it's off the menu for autumn's haul now anyway) but shows the kitchen has aspirations to impress.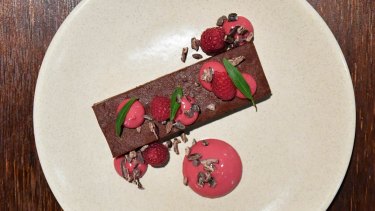 I am impressed by the Western Plains pork chop, nicely bronzed, sliced off the bone, delivered with a big jumble of bright green beans crackling with citrus. You just can't argue with a creamy tranche of chocolate torte and bright raspberry coulis. You can't pretend this isn't a big step up for lunch in the midst of your supermarket run. St Giles has all the parts. It just needs a heart.
Score 13/20
Address Shop 115a, 793 Burke Road, Camberwell, 03 9882 1818, stgileswinebar.com.au
Open Sun-Wed noon-10pm; Thu-Sat noon-11pm
Vegetarian The vegetable dishes, mushrooms especially, are strong.
Drinks An 80-strong list of Australian, Austrian and French wines, drink in or to-go.
Cost Small plates $21-$24, sides $10, steaks and grilled meats $38-$96, most to share.
Go-to dish Western Plains pork cutlet with crunchy green beans ($45).
Pro tip If you don't dig the vibe get smallgoods, steaks and shiraz to go.